Substrates, various
Bio Life
Bio active substrates are designed to allow the maintenance of living ecosystems inside the terrarium.  Bio-Life substrate is carefully blended from a mixture of ingredients to provide the optimum combination of structure, PH and nutrient content which allows vigorous root development for living plants and a suitable habitat for commensal organisms such as springtails and woodlice.
Invert Substrate
Invert Substrate for beetles, millipedes roaches spiders etc.

A unique blend of moisture retaining substrate containing leaf litter and other items that provide food for beetles and millipedes.
Can also be used for spiders, roaches etc.

An important and often overlooked factor in the successful housing and breeding of insects that feed on their substrate.
Coco Brick
Coco Brick is an expandable, moisture retaining substrate suitable for many species of reptiles, amphibians and invertebrates. It expands by 800% when moistened.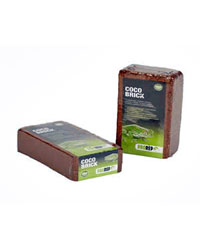 «« Start

« Prev

1

Next »

End »»
Results 1 - 3 of 3
Search
Your Order
Your Cart is currently empty.